PFCC and COVID-19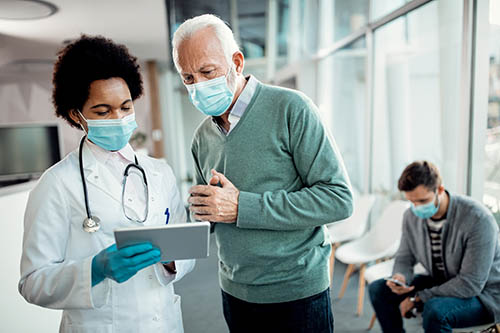 IPFCC is committed to ensuring that PFCC core concepts inform changes to policies and practices to promote safety, prevent disease transmission, and support essential family connections. Access our two latest resources on family presence in this special section.
Emerging Best Practices for Preserving the Essence of Family Presence During a Pandemic **New**
Family Presence During A Pandemic: Guidance for Decision-Making
Must Reads
Engaging the Expertise of Patients and Families in the Education of a New Generation of Providers
With funding from the New York State Health Foundation, the Institute for Patient- and Family-Centered Care developed and tested a comprehensive, online resource, Engaging the Expertise of Patients and Families in the Education of a New Generation of Providers. This free resource offers practical strategies to create patient and family faculty programs. Access and explore the resource.
---
Engaging Underserved Urban Communities in Research
Excluding underserved communities from research exacerbates inequities. With funding from PCORI, IPFCC developed two resources with information and recommendations for building respectful and authentic partnerships between researchers and underserved communities.
---
Key Learnings for Strengthening Partnerships
IPFCC's free guidance resource highlights ten key learnings from a research study of children's hospital PFACs in the U.S. Topics range from the role of leadership to the use of technology.
2022 IPFCC Partnership Award – Nominate Now!
The IPFCC Partnership Award recognizes innovative partnerships among patients, families, and health care professionals. Don't miss the opportunity to submit a nomination for your organization's team of health care professionals and patients/families who, through their collaboration, truly are changing health care.
The 2022 award recipient team and the second place team will be honored at IPFCC's 30th Anniversary Virtual Celebration this fall.
Online nominations must be received by August 15, 2022 to be considered.
Stay Updated with the
IPFCC Portal
The IPFCC Portal is now live! Stay connected with IPFCC's latest news, events, and resources! The Portal will make it easier for you to learn about and register for IPFCC events, access and update your contact information, register for the monthly newsletter, and more.
Join Our Community
PFCC.Connect is IPFCC's FREE online learning community for anyone interested in connecting with, learning from, and sharing ideas with others.