IPFCC's Memphis Seminar A Great Sucess!

A special thanks to Methodist Le Bonheur Healthcare for its leadership support in bringing the Moving Forward with Patient- and Family-Centered Care: Partnerships for Quality and Safety ~ An Intensive Training Seminar, to Memphis, Tennessee on March 30-April 1.

We also th
ank our ext
raordinary faculty members and more than 300 participants.
I
nterdisciplinary teams— from approximately 90 organizations from 29 states, 4 Canadian provinces, and the Netherlands—enjoyed
plenary presentations, panel discussions, and inter
active breakout sessions.
In daily faculty-led small group meetings, each team developed an individualized, practical action plan. These action plans will guide participants in applying what they learned at the seminar to their own organizations.
Seminar participants provided positive feedback, such as:


"I've described this as one of the most awesome experiences in my career. [This seminar] had a great impact on me. So many gems to share when I came home."

"This seminar was by far one of the best seminars I have had the pleasure of attending. Every session was superb with experts in the topic leading/facilitating."

"Excellent training. I'm glad I attended. I feel empowered to make immediate improvements at my facility and effectively partner with my PFCC team..."

Details about the upcoming Fall 2015 Seminar coming soon on IPFCC's website.


Bev Johnson, Honorary Duck Master!


During the Memphis
Seminar, Bev Johnson, IPFCC's President and CEO, had the privilege of serving as the Honorary Duck Master, leading the famed March of the Peabody Ducks from the Italian travertine marble fountain in the Peabody Grand Lobby, up the elevator, to their "Duck Palace" on the hotel roof. The ducks marched through crowds of admiring spectators to the tune of John Philip Sousa's "King Cotton March." This custom dates back to the 1930s.

Past Honorary Duck Masters include Patrick Swayze, Oprah Winfrey and Gayle King, Florence Henderson, Emeril Lagasse, Chris Matthews, Larry King, and Kevin Bacon.


UAB Receives Pinwheel Sponsor Scholarship to Attend IPFCC Memphis Seminar



Congratulations to Pinwheel Sponsor, UAB Hospital, in Birmingham, Alabama, for receiving the Pinwheel Sponsor Scholarship for one free registration to the Moving Forward with Patient- and Family-Centered Care ~ Partnerships for Quality and Safety Intensive Training Seminar, in Memphis, TN, March 30-April 1, 2015.
Gerick Marshall, RN, BSN, MSHA, who is an Advanced Nursing Coordinator, Trauma/Burns ICU at UAB Hospital, was the lucky recipient of the scholarship and joined UAB's team. According to Gerick, "If I had to sum up the IPFCC Seminar in Memphis with one word, it would be WOW! This [learning experience] … ranked in the top percentile for me… I can actually use the content to directly make an impact in my organization… My goal is to help change [our] culture from patients and families being visitors to "Partnering with our Patients and Significant Support Persons."

Learn more about the Pinwheel Sponsorship Program, and its additional benefits.


Better Together Campaign Welcomes Two New Canadian Exemplar Hospitals




IPFCC welcomes Kingston General Hospital (KGH), Ontario, Canada, and Providence Health Care (PHC), British Columbia, Canada, to the roster of Better Together exemplar hospitals that successfully have changed "visiting" policies to family presence policies. These exemplars are models for IPFCC's Better Together: Partnering with Families campaign, which calls upon all hospitals to welcome families 24 hours a day, embracing the idea that patients' families and loved ones are included in care and decision-making according to patient preferences.




The Better Together exemplar hospitals differ in type, size, and geographic location. What they have in common is their commitment to, and success in, changing their policies and practices from viewing families as "visitors" to viewing families (as defined by the patient) as partners. These hospitals are committed to working directly with patients and their families as part of the care team. IPFCC's website features a short profile of each exemplar organization, describing key steps and strategies used in the change process.

In addition, IPFCC lists criteria for exemplar hospitals. Of prime importance are facets of the hospital's leadership, written policies, website, and patient materials that demonstrate a commitment to, and the existence of, a family presence policy, as well as policies and practices that support true partnership with patients and families. For more details, see the list of criteria.

IPFCC's Better Together campaign equips hospital leaders with the rationale, tools, and support needed to change visiting policies. An extensive toolkit—available for free on the website—is designed for hospitals that are just beginning to think about changing policies and for hospitals that have already begun the process but can benefit from additional resources. Information about the toolkit can be found in the Toolkit Index. Read more about IPFCC's Better Together campaign, its campaign partners, and exemplar hospitals. Learn how your organization can join the campaign.

Empowering Pediatric Families to Activate Rapid Response System Yields Positive Results
In December 2014, BMJ Quality and Safety Journal published the study, Developing And Evaluating The Success Of A Family Activated Medical Emergency Team: A Quality Improvement Report, authored by a team, including Kathy Dressman, a former IPFCC faculty member, from Cincinnati Children's Hospital Medical Center (CCHMC), an IPFCC Pinwheel Sponsor.

Rapid response systems are designed to "reliably identify and act on deteriorating hospitalized patients outside the intensive care unit (ICU) setting" and can result in the reduction of "preventable adverse events." CCHMC implemented a process for clinician-activated medical emergency teams (MET) in 2005, and decided to add family-activated MET to the process a few years later.


This article reports on CCHMC's six-year study on the development and evaluation of the family-activated MET.

Pre-study concern about a large volume of activations by families, some for non-medical reasons, proved to be unfounded.

The study revealed that families did activate MET calls, but the instances of these activations were relatively rare. Significantly, some of the family MET activations that were due to concerns about clinical deterioration did result in transfer of the patient to the ICU.

Many of the activations that did not result in transfer to the ICU "identified critical communication concerns." Families identified lack of response of clinicians and dismissive interaction between clinicians and family as reasons for their MET activation. The authors concluded that this category of MET activations—a category not apt to be captured in clinician-generated activations—"could be used to create a learning system around failed partnerships between families and clinicians."

As a part of this study, the researchers partnered with members of the hospital's Family Advisory Council and other families to develop and test educational interventions for families and clinicians, re-design of the educational poster, and re-design of the process for operators handling MET calls. The authors noted that "successful replication of our interventions should include partnering with patients and families in the design of the process."

Citation: Brady PW, et al. BMJ Qual Saf 2015; 24: 203-211. doi:10.1136/bmjqs-2014-003001.
Joanne Ganton Named Executive Director of Engagement and Patient Experience at Alberta Health Services
Joanne Ganton is the new Executive Director of Engagement and Patient Experience in the Quality and Healthcare Improvement Division of the
Alberta Health Services (AHS)
in Canada. Joanne will be key in shaping the implementation of AHS's Patient First Strategy. This strategy "highlights the need to put patients and their families at the centre of all care decisions…[and] aims to improve the well-being of all Albertans... by promoting respect and enhancing communication between health care providers, and between health care providers, patients and families as well as by supporting a team-based approach to care, and by improving better transitions in care."
AHS is Canada's first province-wide, fully integrated health system. AHS promotes wellness and provides health care to approximately 4 million Albertans, as well as to many residents of Saskatchewan, British Columbia, and the Northwest Territories. Programs and services are offered at more than 450 locations, including 100 acute care hospitals, a multitude of clinics, continuing care facilities, mental health facilities, community health sites, and an extensive network of community-based services.
Joanne brings to AHS a wealth of experience. She was the Manager of Patient & Family Centered Care (PFCC) at South Health Campus (SHC) in Calgary, Canada, one of IPFCC's Better Together exemplar hospitals. At SHC, Joanne was integral in the development of the PFCC department and processes, site-wide PFCC practice standards/policies, and implementation of quality improvement and patient safety initiatives. She also played a vital role in developing, implementing, and evaluating the SHC Patient/Citizen engagement plan, including facilitating the work of the Citizen Advisory Team for the design and building of the new campus.
Joanne is recognized as a local, provincial, national, and international leader in the advancement of PFCC. As the parent of a child with special needs, Joanne has presented both nationally and internationally on her personal patient and family health experiences and on her collaborative work to improve the health system. Joanne presented at IPFCC's 6th International Conference in Vancouver, BC in 2014. Joanne, an active volunteer in the community, is the past president of the Calgary Cerebral Palsy Association, former Chair of the Alberta Children's Hospital Family Liaison Council, member of the Family Design Team, and former advisor on the National Research Advisory Group for the Parenting Matters research project.
IPFCC congratulates Joanne, and wishes her every success in her new position.

In This Issue
IPFCC's Memphis Seminar A Great Success!
UAB Receives Pinwheel Sponsor Scholarship to Attend IPFCC Memphis Seminar
Better Together Campaign Welcomes Two New Canadian Exemplar Hospitals
Empowering Pediatric Families to Activate Rapid Response System Yields Positive Results
Joanne Ganton Named Executive Director of Engagement and Patient Experience at Alberta Health Services
The Importance of Including Families in Communication During Medical Handoffs
NIH Briefing

on Dying in America ~ Improving Quality and Honoring Individual Preference Near the End of Life



Thanks to Providence Health Care, Boston Children's Hospital, and The Children's Hospital of Philadelphia ~ 2015 Sponsors for the PFAC Network
IPFCC's Spring Webinars
Register for IPFCC's Webinars—a cost-effective educational resource. Cost is per line, so you can assemble a
group of any size to
participate in the same room on one line. Handouts and supplemental resources are included with registration. There is an optional Question and Discussion segment so participants can discuss topics with IPFCC's expert faculty.
May 2015 Webinars:
Applying Patient- and Family-Centered Concepts in Dealing with Challenging Situations with Patients and Families
Thursday, May 7, 2015
Terry Griffin, MS, APN-BC, a Neonatal Nurse Practitioner at St. Alexius Medical Center in Hoffman Estates, IL, will explore strategies to educate and support staff in managing challenging situations in ways that are consistent with patient- and family-centered concepts.
Involving Physicians in Patient- and Family-Centered Initiatives – Applying Principles to Practice
Tuesday, May 26, 2015
Join Bill Schwab, MD, Professor and Vice Chair of the Department of Family Medicine at the University of Wisconsin School of Medicine and Public Health, who will focus on strategies to engage and involve physicians in patient- and family-centered care initiatives, and provide guidance for dealing with challenging situations.
Learn more about webinar faculty, learning objectives, and Pinwheel Sponsor discounts.

The Importance of Including Families in Communication During Medical Handoffs

In the April 2015 issue of
Health Affairs
, the
Narrative Matters
article
, Insensible Losses: When The Medical Community Forgets The Family
, poignantly tells the story of how, "[w]hen a patient's health suddenly deteriorates, a medical student [rather than a physician] delivers difficult news to a family whom no one has time for."
The author asserts the importance of including communication between providers and families in protocols for medical "handoffs" and the necessity for including this in the formal education of trainees about handoffs. In addition, the author concludes that lapses in such communication with families at such times "should be seen as a sentinel event, on par with clinical harm and prompting a search for root causes."
Read the entire article.
Citation: doi: 10.1377/hlthaff.2014.0536
Health Aff April 2015 vol. 34 no. 4 707-710

NIH Briefing on Dying in America ~ Improving Quality and Honoring Individual Preference Near the End of Life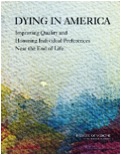 The National Institute of Nursing Research (NINR) hosted a briefing on the Institute of Medicine (IOM) report, Dying in America: Improving Quality and Honoring Individual Preferences Near the End of Life, on Monday, January 12, 2015, on the National Institutes of Health (NIH) campus. 



The meeting discussed the impact of the IOM report on end-of-life and palliative care research, and featured presentations by members of the IOM Committee on Approaching Death: Addressing Key End of Life Issues, followed by a question and answer session. IPFCC's President and CEO, Bev Johnson, and Deborah Dokken, a consultant and family leader who works with IPFCC, were among those invited to participate. The entire proceeding can be viewed on video.

Bev and Deborah both shared questions and comments during the meeting. They raised issues such as the necessity to use the term patient- and family-centered care to indicate the importance of partnership, and the value of not only focusing on the needs that patients and families have for support, but also on the strengths that patients and families bring to the process. They also noted how the involvement of family caregivers can improve the quality of care given, and the value of including family caregivers in the education of health care providers.

See related January 2015 Pinwheel Pages article about Deborah Ness and Bev Johnson's commentary on the IOM report published in the Annals of Internal Medicine.


Thanks to Providence Health Care, Boston Children's Hospital, and The Children's Hospital of Philadelphia ~ 2015 Sponsors for the PFAC Network
Since our last issue of Pinwheel Pages, Providence Health Care has joined Boston Children's Hospital and The Children's Hospital of Philadelphia to support funding of IPFCC's PFAC Network for 2015. Thanks to all three Pinwheel Sponsors for their generous support.

PFAC Network—Patient and Family Advisors and Leaders Network—is an online forum for anyone interested in the work of patient and family advisory councils, and other collaborative efforts with patient and family advisors in all health care settings. Originally developed with the support of the Cincinnati Children's Hospital, the PFAC Network,
hosted by IPFCC since October 2010, is a lively forum that now includes more than 1100 members who participate in discussion forums, post member profiles, share documents, and more. If you are not already a member, join today.

The PFAC Network is accessible from the Tools for Change section of the IPFCC website.
Links​
​

Previous Issues​


About Us
​
Founded in 1992 as a nonprofit organization, the Institute for Patient- and Family-Centered Care works to advance the understanding and practice of patient- and family-centered care in all settings where individuals and families receive health care.